Unique, "EB on Breast"
1787 Brasher Doubloon from
The Gold Rush Collection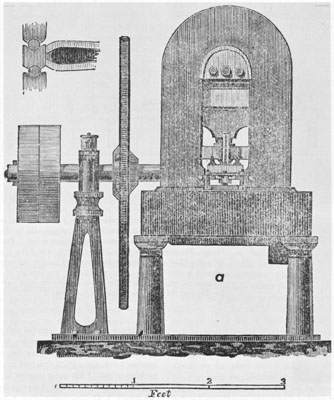 This is an engineering drawing (frontal view) of the toggle-joint steam coining press designed by Franklin Peale and first used at the Philadelphia Mint in 1836. Presses of this type (believed to be the "small size") were used at the Dahlonega and Charlotte Mints. Power to turn the press was supplied by a belt from the steam engine. The detail at the extreme upper left is of the toggle joint.
Source: Ferguson, Eugene S., ed. Early Engineering Reminiscences (1815-40) of George Escol Sellers. Washington, D. C.: Smithsonian Institution, 1965, page 68. Earlier from Journal of the Franklin Institute (November 1836).