Unique, "EB on Breast"
1787 Brasher Doubloon from
The Gold Rush Collection



About the Unique "EB on Breast" 1787 Brahser Doubloon and
The Gold Rush Collection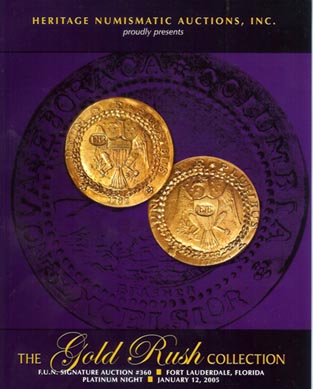 Perhaps no other coin so embodies the romance and history of America's early struggle to establish its identity and independence within the parade of nations as the legendary Brasher Doubloon. A coin about which so little is really known aside from its maker, premier silver and goldsmith Ephriam Brasher, this unique specimen bearing his hallmark EB on the eagle's breast is certainly among the most desirable American coins. Ephriam Brasher was one of New York's most prominent residents at a time when that city was the infant nations capital. He resided next door to George Washington himself, for whom Brasher is known to have prepared at least one table service. So esteemed was Brasher by his contemporaries that his services were even employed by the United States Mint in preparing assays of bullion.

The Brasher Doubloon bears iconography relating to the State of New York, from whom Brasher hoped to receive a contract for coinage. One of just seven known examples, this is the only piece to bear the distinctive EB hallmark on the eagle's breast. It is pedigreed to the famed collections of Charles Bushnell and the Garrett Family. This lovely specimen is well centered and sharply struck. Its surfaces retain much of their proof like brilliance, which is particularly evident within the legends.

A coin of unparalleled historic importance, this precious rarity has been a classic since the earliest days of coin collecting in the United States.

Courtesy of Jay Parrino.
The Gold Rush Collection
For nearly 25 years, Al Adams and Gold Rush Gallery assembled and managed The Gold Rush Collection on behalf of a private collector.

Working with Heritage Auctions, the Gold Rush Collection was sold at auction on January 12, 2005 at the Platinum Night auction during the Florida United Numismatists (F.U.N.) Show in Fort Lauderdale, Florida.

The stunning collection set several records that evening. The "EB on Breast" Brasher Doubloon sold for $2,990,000 along side an "EB on Wing" Brasher Doubloon which sold for $2,415,000 - the first and probably only time in history that two Brasher Doubloons were sold side by side. The entire collection sold for $13,810,494. Greg Rohan, President of Heritage, called working with Al Adams and the Gold Rush Collection "the highlight of my numismatic career."

The "EB on Breast" specimen is currently owned by Rare Coin Wholesalers. RCW has taken the coin "on the road" on a nationwide tour to share this historical treasure with everyone. The remaining specimens remain in private collections or permanently impounded in museums.