Unique, "EB on Breast"
1787 Brasher Doubloon from
The Gold Rush Collection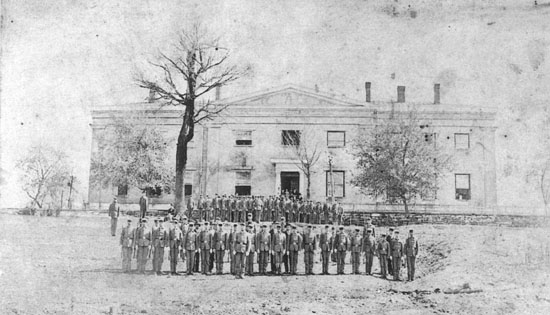 This only-known, full-view photograph of the Dahlonega Mint was taken by photographer J. L. Schaub, circa 1877. The breath-taking photograph's discovery on October 15, 1997 thrilled historians and numismatists alike. The image shows several rows of cadets of North Georgia Agricultural College, with newly delivered uniforms and rifles. It is a mirror image of almost all of the known engravings and drawings of the mint, but is almost identical to the engraving contained in A History of Georgia. Source: Lester, Carl N. "First known Dahlonega Mint photo surfaces." Coin World (November 17, 1997):1 There courtesy of North Georgia College and State University, Dahlonega, GA.