Unique, "EB on Breast"
1787 Brasher Doubloon from
The Gold Rush Collection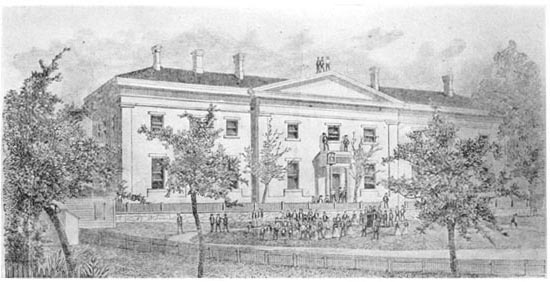 This is the engraving of the Dahlonega Mint that one has most commonly seen over the years. It is believed to have been first published in the "Report of the Commissioner of Agriculture for the Year 1872" and was subsequently used by Andrew Cain in his Lumpkin County history in 1932. The engraving is now known to be a mirror image of the true orientation, which was not known until the discovery in October 1997 of the only-known full-view photograph of the Dahlonega Mint. It is interesting to note that the rear portion of the building (stem of the "T") is not visible in this engraving. Source: Cain, Andrew W. The History of Lumpkin County for the First Hundred Years 1832-1932. Atlanta, GA: Stein Printing Company, 1932, page 80.